Composite Deck vs. Concrete Patio: Compare Pros, Cons, and Price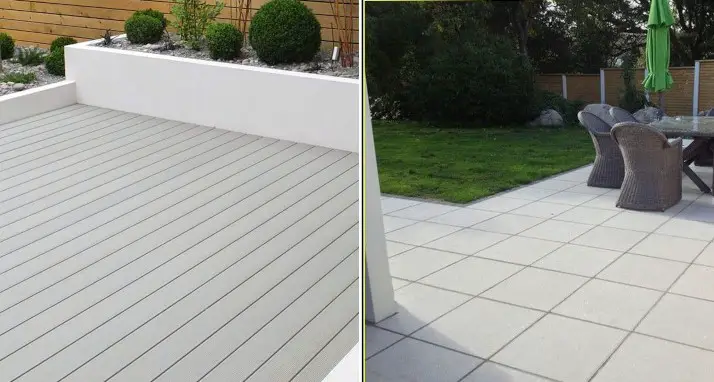 A patio or deck makes the perfect setting for many enjoyable outdoor experiences. Both the patio and deck enable many outdoor activities like grilling, outings with family and friends, or just simply relaxing after work.
Maybe you don't have a patio or deck yet. You want one, but aren't sure which one to get. You may have doubts, though, before committing to designing an outdoor living environment that complements your lifestyle. 
Is it more cost-effective to build a deck or a patio? Which is the easiest to construct? When it comes to creating outdoor living areas, there are numerous options to consider, and weighing the pros and cons can be difficult.
As with nearly everything, decks and patios have both advantages and disadvantages. 
In this article, we will go over the pros and cons of both, especially between composite decks and concrete patios. We will explain the advantages and disadvantages of each one. Which one is better suited for your needs? Check why one cost is more rational than the other. 
So let's examine which may be suited for your house and your needs.
Differences Between Decks and Patios
Decks and patios show differences in many aspects: their construction material, purpose, design, and position within your home. Below are some general differences between the two:
Decks are typically built from lumber or composite materials, while patios are typically made of stone, brick, or concrete. 
Decks are often used for recreation, such as sunbathing or reading a book, while patios are more commonly used for dining or entertaining guests. 
Because decks are elevated off the ground, they require more frequent upkeep to ensure that water does not damage the structure. Patios do not require as much maintenance, but can be more expensive to build.
While both provide a useful platform for an outdoor living area, there are many important aspects to consider before choosing one. 
You should take into account the costs, installation, how long it takes, the landscape, and your own particular preferences. 
Understanding the differences between decks and patios, after reading this article, might help you determine which one is best for you.
What is Composite Decking?
Composite decking is made of a combination of wood fibers, plastic, and artificial bonding agents. The wood and plastic mixture is then heated and put into a mold to form a plank. The end result is frequently designed to resemble wood decking while requiring less maintenance than a traditional wooden deck.
Because of their plastic element, composite decks are less prone to wood decay and invasive insects and can endure intense sunlight, rainy winters, and even ice. You also don't have to seal, stain, or paint composite wood because it's made to your specifications.
Composite decking is available in a variety of colors and textures, and it can hold up to weather and wear.
Composite Decking Pros and Cons
Composite decking is a relatively new material that has begun to gain popularity in recent years. This decking is a popular choice for homeowners because it is environmentally friendly, easy to clean, and has a long lifespan. 
However, there are some pros and cons to using composite decking. Here is the top list of advantages and disadvantages of composite decking: 
Advantages of Composite Decking (Pros):
Little to no maintenance. To keep your composite deck looking its best, you don't need much to do. Simply rinse it off with a hose every few months. If you notice any dirt or debris buildup, you can use a soft brush or a power washer to clean it off. You should also check the fasteners periodically and tighten them if necessary.
No need for sealing and staining. Unlike traditional wood decks, which require staining and sealing every year or two, composite decks only require minimal care and maintenance.
Durability. Most manufacturers will give warranties of 20 years to a lifetime to cover the products from defects, decay, and rottenness.
Little fading. The color of the composite deck will mostly be intact after some initial fading.
Eco-friendly. Composite decking is made of recycled materials, such as wood fiber and recyclable plastic. So it's a sustainable option that doesn't require the use of harmful chemicals.
Boards are longer than wood. It is not like limited wood length, composite decking length can be up to 20 feet (ca. 6 m).
Won't warp or splinter. Composite decking is made of a blend of wood fiber and plastic, so it will not rot, warp, or splinter like traditional wood decking.
One set. All the necessary accessories are available for most decking designs. Railings, treads, posts, fascia, and more are among them.
Many styles to choose from. Composite decking comes in a variety of styles to complement any home, including rustic, country, traditional, and contemporary.
Disadvantages of Composite Decking (Cons):
Not a "real wood" look. Despite the wood-grain texture, composite decking does not have a "real wood" appearance. You can still notice the man made texture.
Pricey. The material is more expensive than wood, but you'll save money on annual maintenance. A composite deck will likely last far longer than a wood deck.
Easy to be scratched. Dragged furniture, dog claws, and grit underfoot will harm it quite easily. Unfortunately, the warranty does not cover scratches and wear and tear.
Feel hot under the sun. The darker the color of the deck, the more heat it will absorb, so bare feet and pets may find it hot on sunny days.
Boards may sag. If the supporting joists are more than 16 inches apart, the boards may sag.
Stain prone. Because the decking contains wood fibers that absorb oil, juice, wine, meat juice, and other liquids, it is stain-prone.
Fade over time. Composite decking is known to fade over time. Yes, you can restore faded composite decking, but it will cost you more.
Composite Decking Costs
The cost of composite decking can range anywhere from $4 to $10 per square foot. There are a few factors that will affect the overall price, such as the brand of composite decking. 
Higher-quality composite material with premium color and texture to resemble cedar or tropical woods is substantially more expensive.
Composite decking installation costs can range anywhere from $2 to $10 per square foot. The more complex the deck, the higher the cost. However, there are many factors that go into the final price, such as the size of the deck, materials used, and contractor rates. It is important to get several estimates before deciding on a contractor.
Concrete Patios Pros and Cons
In the world of exterior concrete patio design, there are some pros and cons to consider before making a concrete patio. Here's a look at what each side has to offer: 
Advantages of Concrete Patios (Pros):
Cheaper than a deck. A concrete patio is substantially less expensive than composite decking. You pay less not only for the material but also for the installation.
Easy to stamp or mold. Concrete patios can be stamped or molded to meet your preferable decorative element styles. They can be stamped or molded to give them a unique look. The most popular option is to stamp the concrete with a design that resembles brick, stone, or tile. Another option is to mold the concrete into a specific shape.
Strength and Durable. Concrete is one of the most durable materials available, meaning your patio will last for many years with little or no maintenance. Strengtheners of the material are also important because patios can take a lot of wear and tear from foot traffic, furniture, and weather conditions.
Can design styles and colors. Concrete patios can be acid stained and polished to look like granite or marble. The process is relatively simple and inexpensive, and it can create a beautiful, high-end look for your patio. A range of colors can be created by adding pigment to wet concrete.
Disadvantages of Concrete Patios (Pros):
Plain concrete lacks visual appeal. If you're looking for a patio that will add some visual appeal to your yard, you may want to steer clear of plain concrete. Concrete is a popular material for patios, but it can be quite plain and unappealing. 
Easy to crack. Concrete eventually cracks. If the cracks are not fixed, they can grow larger over time and become a safety hazard. Additionally, cracks are unattractive and can detract from the appearance of your property.
Require ground prep. Before installing a concrete patio, the ground should be leveled and graded. If there are any bumps or hills, they need to be smoothed out. Uneven ground will cause the patio to crack and sink over time. The area should also be cleared of all roots and rocks. If the ground is not prepared properly, the patio will not be stable and could cause injuries.
DIY concrete installation isn't easy. When it comes to installing concrete, doing it yourself (DIY) may seem like the best way to save money. However, inexperience can lead to botched results and even more expense. Concrete is a heavy, unforgiving material that is best installed by professionals who have the proper tools and experience. 
Concrete Patios Costs
The cost of concrete patio material ranges from $1.25 to $2.50 per square foot. The price varies depending on the thickness and finish of the concrete. Thicker and more finished surfaces will be more expensive.
The cost of installing a concrete patio varies based on the size of the patio, the complexity of the design, and the materials used. Plain concrete typically costs $1.50 to $4 per square foot to install, while stamping or staining can add another $2 to $7 per square foot. Pavers and other decorative features can also increase the cost.
Is a Concrete Patio Cheaper than a Composite Deck?
When comparing both prices, you are not only taking the cost of the material into account, but the installation cost also makes a difference. 
You will discover that a concrete patio is often less expensive than composite decking. As a matter of fact, the price of a concrete patio may be less than half of the cost of composite decking. This, of course, depends on where you live and who conducts the installation. But in the long run, concrete may not be as profitable as a composite deck.
Final Thought
When it comes to backyard patios, there are a few popular options: concrete, brick, and composite decking. Each material has its own unique benefits and drawbacks. Here is a brief overview of each material:
Concrete patios are affordable and easy to install. They are also very durable and can last for many years. However, they can be quite plain and uninviting.
Composite decking is the most popular option for backyard patios. It is affordable, easy to maintain, and adds a touch of sophistication to any yard. However, it is not as durable as concrete or brick patios.