Basement Under Garage: Plans, Cost, and Floor Design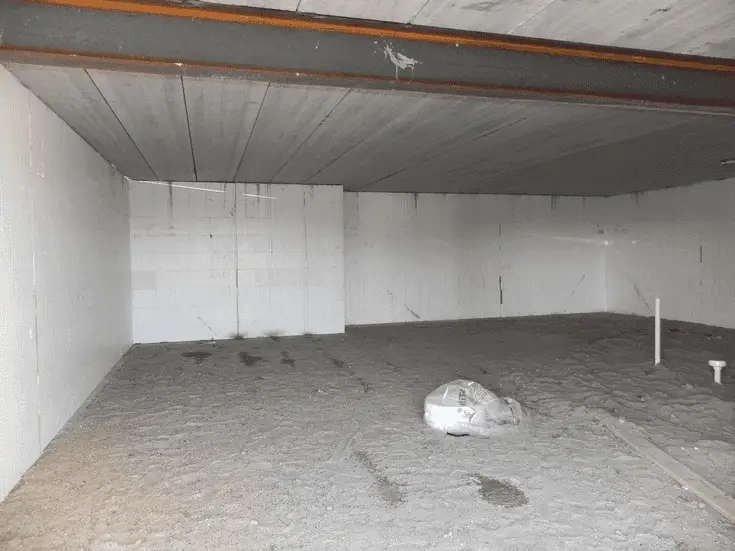 Like many homeowners, you want to have a basement as well as a garage, in an addition to your house. Both provide you with extra storage space and also increase the value of your property. But you don't have extra area to build your basement. You are considering building your future basement under the garage. So, is it possible to build a basement underneath a garage?
The answer is yes. A basement under the garage is possible, but it takes more than careful planning and execution. When constructing a basement below a garage, you must confirm that you will build it properly. You'll need a well-thought-out execution strategy for this plan.
In most houses, the basement reflects the design of the above-ground building. Because your garage floor bears a lot of weight, a poorly constructed basement can cause structural damage to your home and put you in danger.
Can a Garage Have a Basement?
Garages can potentially have basements, despite the fact that this is quite uncommon. Many people wanted a workshop area beneath their garage. Others may prefer a living or storage room under their garage. It is possible to build a room for whatever purpose area you have in mind, below your garage.
But the thing is, it is not an ideal condition to construct a basement under the garage by yourself. There are many factors like safety, cost, and skill set that should be considered. This is not an average DIY project for most DIY'er. Your best bet is to ask for professional advice before you do it.
Basement Under Garage: What Is It?
In most homes, basements are simply finished/unfinished concrete spaces below the main living spaces. They are often used for storage. However, basements can be much more than just storage areas—they can also be used as living space, a place to keep extra vehicles, or even a workout area.
So a basement under a garage is actually a basement floor located underneath a garage. 
Basement Under Garage: How To Plan It?
Depending on the sort of soil you have, you'll require different types of foundations. You'll also need to have your property surveyed, which will help you figure out where the foundation's corners will be and where your footings will go.
You may expect one of four materials for the foundation and wall construction: poured concrete, concrete block, precast panels, or stone walls. Putting the finishing touches on a garage basement is similar to putting the finishing touches on any other room: it all depends on what you want to do with it.
The use of drywall and insulating material on garage ceiling and the walls is advised. The main distinction between a garage basement and a standard basement is that garage basements feature a garage door. This door may be found beneath the earth at the bottom of a hill.
If your property is situated on the side of a hill, mountain, or another uneven terrain, the garage door can be positioned in such a manner that a straight driveway is possible.
Basement Under Garage Benefits and Drawbacks
The benefit of a basement level under a garage is that you get more room and access to all the areas beneath the garage. The drawback is that it is more expensive to build than a normal garage floor. The conventional garage floor is just stone-filled and then completed with a smooth concrete surface. 
Another thing to consider is, that it needs more thorough preparation and, in certain circumstances, time to build one.
Knowing what these structures are, how to plan for one, the benefits, and drawbacks of these areas, and how they compare to more traditional garages is critical. Knowing all the benefits and drawbacks of these structures will help you decide whether you want a garage basement.
Do You Need Planning Permission to Build a Basement?
Many people believe that they do not need planning permission to build a basement, but this is not always the case. There are a number of factors to consider before making such a decision. 
This depends on the size and type of basement being built, whether any alterations or additions will be made to the property, and the zoning regulations in place for the area. If you are unsure whether you require planning permission, it is always best to consult with a local authority or professional planner.
You may not be breaching any regulations if you build without planning permission. If there is a planning violation, you may need to file a retroactive application or even file an appeal against an enforcement notice.
Is It Worth Building a Basement Under the Garage?
A completed basement may improve the value of your home by 40%. While a basement does not contribute to the overall square footage of a property, most homeowners know more than just numbers. Basements are frequently used as a casual living area/family room, office, home classroom, and guest rooms.
Materials Needed to Build Basement Under Garage
If you've considered the pros and cons and go for it, there are things you should prepare. Planning the structure and implementing them are two different things. 
First, you must prepare the material needed to build one. Below are the must-have material for building the core of the structure:
Steel reinforced, this is for foundation walls. The wall minimum thickness of twelve inches on all four sides.
Pre-engineered concrete flooring with flexicore.
Prefabricated floors will be lifted using a crane.
For a job of this size, the materials specified above are standard. You also need a contractor that is certified to build a basement under a garage. This contractor would most likely obtain supplies from a certain manufacturer.
The flexicore must be linked to the walls when the floor is placed on the foundation to ensure the floor's stability. If you want to run pipes or anything else to the basement, you'll need to prepare ahead of time because this flooring is quite tough to break through. As a result, more changes may be required.
How Much Does a 1000 Square Foot Basement Cost?

Flexicore l is commonly used in industrial building projects involving the construction of multiple floors. Because of the steel beams embedded in the concrete, the material is rather heavy, necessitating the employment of a large-duty crane. It is suitable for this sort of job because to its durability and safety.
How much does a 1,000 square foot basement cost? To build and complete a 1,000 square foot basement, you should put a budget of around $7,000 to $23,000. If you want to make a better outcome by using an interior designer, add around $6,500. Then, if you want to fully furnish your garage, add an extra $2,650 for furnishings.
Frequently Asked Questions
1. Is the Time and Money Invested in a Basement Under Garage Worth It?
It is dependent on the situation. If you live in a location where space is limited or expensive, it's well worth it. You won't need more property to create your basement, saving you money on land purchases.
2. Is There a Limit to How Deep a Basement Can Be Built Under a Garage?
Many cities have stringent regulations on what you can construct and what you can't build. As a result, before beginning this project, you should check with your local municipal government and obtain all appropriate permits.
3. What Materials Do You Need to Build a Basement Under Garage?
To construct a basement under the garage, you'll need Flexicore, steel, and concrete.
4. How Can You Make Use of the Basement Garage?
A basement under the garage can be used to store extra equipment or for amusement, such as constructing a movie theater or a pool table.