Working on Roof Without Scaffolding: Is it Safe & Legal?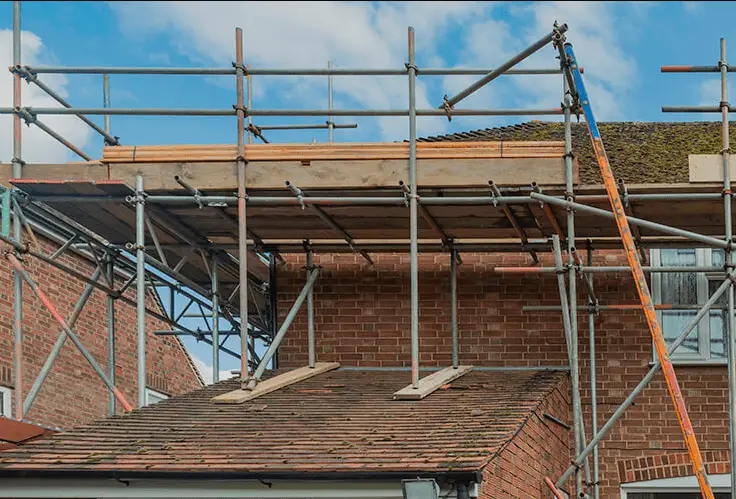 A roof is one of the most important parts of a home, protecting it from the weather and keeping the inside of the home dry. That's why it's essential to have a roof that's in good condition and properly installed. 
A damaged roof can lead to a variety of problems for a homeowner. It's necessary to have regular inspections and maintenance done on your roof to ensure that it's in good condition and can protect your home.
You may need professional assistance for roofing works or repairs. The reason is that they can present challenges in terms of access and safety. Not many DIYers have the skill to do roof work. You should also consider DIY safety tips for home improvement projects.
Scaffolding is needed for most household roof repairs, according to the majority of government health and safety recommendations. On the other hand, it may unneeded for minor one-man projects, thus it is typically deemed completely fine to utilize a ladder that is securely fastened in these situations.
Before you attempt any roofing repair with or without scaffolding, it is important for you to fully understand the safety and legal issue. Please read this article to get some highlights and ensure you do the job safely while working on the roof without scaffolding.
Why Do You Need Scaffolding for Your Jobs?
While there are some smaller roofing projects that can be completed without scaffolding, they are the exception, not the rule. In fact, many building officials will not even issue a permit for a roofing project that does not involve the use of scaffolding.
This is because scaffolds provide workers with a safe and stable platform from which to work. They also keep them out of harm's way by providing a barrier between them and potential falling debris.
Below are some reasons why you need scaffolding to complete your jobs.
Health and Safety Rules.
If you have more than four people working at height, the health, and safety governing body will almost always encourage you to do a full risk assessment. The results of which will almost always find that scaffolding is the safest method to do so.
Scope of the Job
Scaffolding will be required for jobs if you are working on the whole roof, so not for the small parts that can take lightly. Scaffolding is meant to keep everyone working on the roof and those working on the ground safely. 
Scaffolding with an edge placed around the platform is required if there is a risk of tools or materials falling from the ceiling. Many local scaffolding providers offer this style of scaffolding for rent. A chute can be attached to the edge of the scaffolding to enable the safe movement of items from the roof to the ground.
Duration of the Job
Scaffolding is also recommended if your job is going to continue longer than a few days. It is also mandated if the weather is forecast to be uncooperative. When covering an incomplete roof, having scaffolding in place to protect the roof, tools, and supplies from the weather can be beneficial.
Need an Alternative Platform?
If your repair task requires working on a chimney, scaffolding should always be considered to provide a safe working platform. There are other options to the scaffolding by using other alternative platforms. But none are as safe as scaffolding, and spending a little more for your protection is well worth it.
Alternatives Platform to Using Scaffolding
Scaffolding is the most popular method for working at heights and having access to vast heights for lengthy periods of time. Why? Scaffolding is a safe, efficient, and solid means to reach higher elevations.
When operating at a height, however, there are other options. What are they, and why may you be looking for an alternative to scaffolding?
Here are several scaffolding options that might be useful in certain scenarios.
Access towers
An access tower resembles scaffolding in appearance and provides the same functionality. The only difference is that there is no need for installation. Although they aren't always as large as traditional scaffolding and can't be custom-built, access towers are ideal for a broad range of applications and circumstances.
Scissor lifts
Because of their movable base units, scissor lifts are easy to transfer into the place you need them for whenever you need them. This is the ideal choice for projects where the platform may need to be moved on a frequent basis.
Scissor lifts have a number of advantages, including being simply adjustable and being safe, sturdy, and steady — the only three "S's" you need to know.
Access platform
This scaffolding option is comparable to access platforms in the sense that the platform is rectangular, allowing you to operate on a level, long surface. For rooftop operations, an access platform is very useful. It may be extended along the side of a building to provide simple access to the whole roof. An access platform, rather than a tower or ladder, is a safer and more convenient solution for wide regions since it offers stability.
Ladder
A ladder is a basic, and maybe straightforward, option. However, despite the fact that many of us have and use ladders at home, this alternative is frequently overlooked. If you want a taller, more flexible ladder than the one you presently have, there are telescoping ladders you can use or rented. A telescoping ladder provides benefits with the additional height you require. You may put a ladder on scaffolding to get extended reach, although it is not recommended.
Cherry pickers / Boom lifts
This is a terrific solution depending on the degree of height you desire or need to attain. These machines, whether referred to as cherry pickers, boom lifts, or powered access booms, can be utilized both indoors and outdoors. They let you access difficult-to-reach areas with ease and provide you with motorized mobility.
The Dangers of DIY Roofing Work
When most people think about roofing, they imagine a professional contractor with years of experience working on their home. 
However, there are many people who choose to do the job themselves in order to save money. While this can be a great option for some projects, roofing is not one of them. There are several dangers associated with DIY roofing work that should not be taken lightly.
One of the biggest dangers of DIY roofing is the potential for injury. Climbing onto a rooftop can be dangerous, especially if you are not used to it. You could easily slip and fall, resulting in serious injuries.
Another danger of DIY roofing is the potential for damage to your home. If you do not have the proper tools or experience, you could easily damage your roof or the surrounding structure of your home. This could lead to expensive repairs down the road. 
The last danger of DIY roofing is the potential for mold or mildew. If you are not careful, your roof could become covered in a layer of mold or mildew, which can be very harmful to your health and home. This can also be very expensive to your home and family's health. 
In order to prevent any of these dangers, you should always call a professional roofing company. Always choose a certified roofer since they will have had the essential training to professionally work on your roof while following the safest procedures.
How Can You Work Safely on a Roof?
Working on a roof can be dangerous, but with the proper precautions, it can be safe.
While there are broad safety standards you should follow, there is still a lot more you can do to keep yourself safe. 
In this post, we'll go over some of the most crucial components of roof repair safety, so you may confidently take on your next roofing project.
1. Make sure you have the necessary safety equipment, including a harness, ropes, and a ladder. This will help keep you safe if you fall.
3. Make sure the ladder is stable and secure before using it.
4. Use caution when walking on the roof, and avoid walking in areas that are slippery or unstable. Make sure the surface of the roof is stable before walking on it. If it is wet or icy, do not walk on it.
5. Stay alert and keep your eyes open for hazards, both on the roof and below it.
6.  Do not stand in one place for too long. Move around and take breaks often to avoid getting tired and slipping or falling.
7. If you don't feel comfortable doing something, don't do it – ask for help instead.
8. If a leak is found, don't try to fix it yourself. Instead, contact your roofing contractor immediately. 
9. If you have any questions or concerns about this project, talk to your building supervisor or the roofing contractor immediately. 
10. When you're finished with your work for the day, inform your supervisor or roofing contractor that you're done. 
11. If there's an emergency during the project, call 9-1-1 immediately and leave a message with your name and the location of the incident. 
Legal Regulations For Working Safely with Scaffolding
Working on a roof without using scaffolding can be risky, but it is legal in many places. It is important to use common sense and follow the safety guidelines provided by your roofing company.
But the condition is different when utilizing scaffolding informal jobs. All employers who utilize scaffolding to do their tasks, as well as all supervisors and employees, must follow OSHA laws. If you were harmed by scaffolds while working or visiting a building site, you are likely to be entitled to compensation for your pain and suffering.
If you work in the construction sector, you will almost certainly be required to work on scaffolding on a regular basis. Scaffolding constructions may be extremely dangerous, both for people working on them and for others in the immediate vicinity. Many regulatory rules have been put in place by the Occupational Safety and Health Administration (OSHA) to improve scaffolding safety in order to prevent accidents and injuries.
Do You Need Scaffolding for Simple Roofing Work?
Yes, most likely you will need scaffolding for simple roofing work. Even a small project will require more than just a ladder to complete safely and effectively. Most roofing projects will require at least some type of scaffold, whether it is a traditional system or something more mobile like a ladder jack scaffold.
While there are some smaller roofing projects that can be completed without scaffolding. A well-secured ladder without scaffolding might be a possibility if it's a quick and straightforward project that won't take days to complete. This is frequently the case for relatively straightforward chores like gutter repairs.
In fact, many building officials will not even issue a permit for a roofing project that does not involve the use of scaffolding. 
This is because scaffolds provide workers with a safe and stable platform from which to work. They also keep them out of harm's way by providing a barrier between them and potential falling debris.
When You Do Not Need Scaffolding for Roofing Work?
If your project is easy and won't take more than a day, then you may not need scaffolding. All you'll need is a ladder that is securely fastened. But if you think there's a chance you'll fall or your tools and materials will tumble, then reassess your need. 
Scaffolding isn't always required for activities like replacing tiles, guttering, or fixing valleys. Scaffolding isn't required for roofing jobs if the roof can be securely accessible from within the building, such as via steps up to a flat roof or a low-pitched roof.
Scaffolding may not be required for single-story flat roofs. It may be sufficient to provide a safe ladder and a chute to dispose of any waste materials to the ground. Always consider your own safety first.
Scaffolding is also not suitable in other situations. A motorized access platform may be a preferable solution in extremely uncomfortable, hard-to-reach regions or buildings if it has more than two levels. It is a faster and more cost-effective choice when access is limited or for emergency work, with a typical reach of up to 90 feet.
As tempting as it may be to tackle a task yourself or save money by avoiding scaffolding, you must always consider the safer choice. It's impossible to put a price on your safety! As a result, keep this in mind when calculating your costs.
Working Safely on Roof Without Scaffolding
Working on a roof without using scaffolding can be risky, but it is legal in many places. It is important to use common sense and follow the safety guidelines provided by your roofing company. If you're doing your own roofing work, be aware of the following safety tips: 
1. Always wear a fall-protection suit and use proper ladder safety practices. Consider using safety harnesses or belts if possible.
2. Work from a secure platform or elevated area.
3. Make sure your ladder is properly secured to the roof and is free of obstructions. 4. When working on a sloped roof, make sure all ladders are set at the same angle. 5. Always use a ground ladder when working on the roof. 
6. Be aware of sharp edges and metal flashing, and use caution when working around light fixtures.
Final Thought
In conclusion, working on a roof without scaffolding can be dangerous if not done properly. It is important to take the necessary precautions to ensure your safety while working on a roof. A